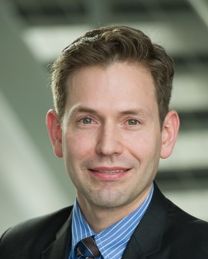 Prof. Dr. rer. nat. Martin Dienwiebel
Curriculum Vitae
Martin Dienwiebel studierte Physik an der Universität Dortmund und der Rheinischen Friedrich-Wilhelms Universität Bonn. Seine Diplomarbeit fand am Forschungszentrum Jülich auf dem Gebiet der Tieftemperatur-Rastertunnelmikroskopie statt. Seine Doktorarbeit entstand bei Joost Frenken am Institut für Atom- und Molekülphysik in Amsterdam, dem Kamerlingh Onnes Laboratorium in Leiden und dem Tokyo Institute of Technology. Dienwiebel promovierte 2003 an der Universität Leiden mit dem Thema "Superlubricity of Graphite".
Nach der Promotion arbeitete er in der Tribologieforschung der IAVF Antriebstechnik AG. 2008 wurde er mit einer Emmy-Noether Förderung der Deutschen Forschungsgemeinschaft ausgezeichnet und etablierte am Karlsruher Institut für Technologie und dem Fraunhofer-Institut für Werkstoffmechanik IWM eine Nachwuchsgruppe. 2011 habilitierte er sich in der Fakultät für Maschinenbau am KIT und trat 2016 eine Heisenberg-Professur für angewandte Nanotribologie an.
Seit 2017 ist Martin Dienwiebel Gastprofessor an der Kumamoto Universität, Japan und Mitglied der Advanced Structural Materials Group von IROAST. Er ist außerdem Associate Editor der Zeitschrift WEAR.
Vorlesungen im Wintersemester 2017/18
Titel
Typ
Ort
Zeit
Tribologie
Vorlesung / Übung (VÜ)
19.10.2016
08:00 - 09:30 wöchentlich
30.22 Kl. HS B 30.22 Physik-Flachbau


21.10.2016
09:45 - 11:15 wöchentlich
10.91 Mittl. HS Raum 150 10.91 Maschinenbau, Altes Maschinenbaugebäude

21.10.2016
11:30 - 13:00 wöchentlich
10.81 Raum 219.1 10.81 Bauingenieure, Altes Bauingenieurgebäude

26.10.2016
08:00 - 09:30 wöchentlich
30.22 Kl. HS B 30.22 Physik-Flachbau

28.10.2016
09:45 - 11:15 wöchentlich
10.91 Mittl. HS Raum 150 10.91 Maschinenbau, Altes Maschinenbaugebäude

28.10.2016
11:30 - 13:00 wöchentlich
10.81 Raum 219.1 10.81 Bauingenieure, Altes Bauingenieurgebäude

02.11.2016
08:00 - 09:30 wöchentlich
30.22 Kl. HS B 30.22 Physik-Flachbau

04.11.2016
09:45 - 11:15 wöchentlich
10.91 Mittl. HS Raum 150 10.91 Maschinenbau, Altes Maschinenbaugebäude

04.11.2016
11:30 - 13:00 wöchentlich
10.81 Raum 219.1 10.81 Bauingenieure, Altes Bauingenieurgebäude

09.11.2016
08:00 - 09:30 wöchentlich
30.22 Kl. HS B 30.22 Physik-Flachbau

11.11.2016
09:45 - 11:15 wöchentlich
10.91 Mittl. HS Raum 150 10.91 Maschinenbau, Altes Maschinenbaugebäude

11.11.2016
11:30 - 13:00 wöchentlich
10.81 Raum 219.1 10.81 Bauingenieure, Altes Bauingenieurgebäude

16.11.2016
08:00 - 09:30 wöchentlich
30.22 Kl. HS B 30.22 Physik-Flachbau

18.11.2016
09:45 - 11:15 wöchentlich
10.91 Mittl. HS Raum 150 10.91 Maschinenbau, Altes Maschinenbaugebäude

18.11.2016
11:30 - 13:00 wöchentlich
10.81 Raum 219.1 10.81 Bauingenieure, Altes Bauingenieurgebäude

23.11.2016
08:00 - 09:30 wöchentlich
30.22 Kl. HS B 30.22 Physik-Flachbau

25.11.2016
09:45 - 11:15 wöchentlich
10.91 Mittl. HS Raum 150 10.91 Maschinenbau, Altes Maschinenbaugebäude

25.11.2016
11:30 - 13:00 wöchentlich
10.81 Raum 219.1 10.81 Bauingenieure, Altes Bauingenieurgebäude

30.11.2016
08:00 - 09:30 wöchentlich
30.22 Kl. HS B 30.22 Physik-Flachbau

02.12.2016
09:45 - 11:15 wöchentlich
10.91 Mittl. HS Raum 150 10.91 Maschinenbau, Altes Maschinenbaugebäude

02.12.2016
11:30 - 13:00 wöchentlich
10.81 Raum 219.1 10.81 Bauingenieure, Altes Bauingenieurgebäude

07.12.2016
08:00 - 09:30 wöchentlich
30.22 Kl. HS B 30.22 Physik-Flachbau

09.12.2016
09:45 - 11:15 wöchentlich
10.91 Mittl. HS Raum 150 10.91 Maschinenbau, Altes Maschinenbaugebäude

09.12.2016
11:30 - 13:00 wöchentlich
10.81 Raum 219.1 10.81 Bauingenieure, Altes Bauingenieurgebäude

14.12.2016
08:00 - 09:30 wöchentlich
30.22 Kl. HS B 30.22 Physik-Flachbau

16.12.2016
09:45 - 11:15 wöchentlich
10.91 Mittl. HS Raum 150 10.91 Maschinenbau, Altes Maschinenbaugebäude

16.12.2016
11:30 - 13:00 wöchentlich
10.81 Raum 219.1 10.81 Bauingenieure, Altes Bauingenieurgebäude

21.12.2016
08:00 - 09:30 wöchentlich
30.22 Kl. HS B 30.22 Physik-Flachbau

23.12.2016
09:45 - 11:15 wöchentlich
10.91 Mittl. HS Raum 150 10.91 Maschinenbau, Altes Maschinenbaugebäude

23.12.2016
11:30 - 13:00 wöchentlich
10.81 Raum 219.1 10.81 Bauingenieure, Altes Bauingenieurgebäude

30.12.2016
11:30 - 13:00 wöchentlich
10.81 Raum 219.1 10.81 Bauingenieure, Altes Bauingenieurgebäude

11.01.2017
08:00 - 09:30 wöchentlich
30.22 Kl. HS B 30.22 Physik-Flachbau

13.01.2017
09:45 - 11:15 wöchentlich
10.91 Mittl. HS Raum 150 10.91 Maschinenbau, Altes Maschinenbaugebäude

13.01.2017
11:30 - 13:00 wöchentlich
10.81 Raum 219.1 10.81 Bauingenieure, Altes Bauingenieurgebäude

18.01.2017
08:00 - 09:30 wöchentlich
30.22 Kl. HS B 30.22 Physik-Flachbau

20.01.2017
09:45 - 11:15 wöchentlich
10.91 Mittl. HS Raum 150 10.91 Maschinenbau, Altes Maschinenbaugebäude

20.01.2017
11:30 - 13:00 wöchentlich
10.81 Raum 219.1 10.81 Bauingenieure, Altes Bauingenieurgebäude

25.01.2017
08:00 - 09:30 wöchentlich
30.22 Kl. HS B 30.22 Physik-Flachbau

27.01.2017
09:45 - 11:15 wöchentlich
10.91 Mittl. HS Raum 150 10.91 Maschinenbau, Altes Maschinenbaugebäude

27.01.2017
11:30 - 13:00 wöchentlich
10.81 Raum 219.1 10.81 Bauingenieure, Altes Bauingenieurgebäude

01.02.2017
08:00 - 09:30 wöchentlich
30.22 Kl. HS B 30.22 Physik-Flachbau

03.02.2017
09:45 - 11:15 wöchentlich
10.91 Mittl. HS Raum 150 10.91 Maschinenbau, Altes Maschinenbaugebäude

03.02.2017
11:30 - 13:00 wöchentlich
10.81 Raum 219.1 10.81 Bauingenieure, Altes Bauingenieurgebäude

08.02.2017
08:00 - 09:30 wöchentlich
30.22 Kl. HS B 30.22 Physik-Flachbau

10.02.2017
09:45 - 11:15 wöchentlich
10.91 Mittl. HS Raum 150 10.91 Maschinenbau, Altes Maschinenbaugebäude

10.02.2017
11:30 - 13:00 wöchentlich
10.81 Raum 219.1 10.81 Bauingenieure, Altes Bauingenieurgebäude



Nanotechnologie für Ingenieure und Naturwissenschaftler
Vorlesung (V)
20.10.2016
15:45 - 17:15 wöchentlich
20.30 SR -1.017 (UG) 20.30 Kollegiengebäude Mathematik, Englerstr. 2


27.10.2016
15:45 - 17:15 wöchentlich
20.30 SR -1.017 (UG) 20.30 Kollegiengebäude Mathematik, Englerstr. 2

03.11.2016
15:45 - 17:15 wöchentlich
20.30 SR -1.017 (UG) 20.30 Kollegiengebäude Mathematik, Englerstr. 2

10.11.2016
15:45 - 17:15 wöchentlich
20.30 SR -1.017 (UG) 20.30 Kollegiengebäude Mathematik, Englerstr. 2

17.11.2016
15:45 - 17:15 wöchentlich
20.30 SR -1.017 (UG) 20.30 Kollegiengebäude Mathematik, Englerstr. 2

24.11.2016
15:45 - 17:15 wöchentlich
20.30 SR -1.017 (UG) 20.30 Kollegiengebäude Mathematik, Englerstr. 2

01.12.2016
15:45 - 17:15 wöchentlich
20.30 SR -1.017 (UG) 20.30 Kollegiengebäude Mathematik, Englerstr. 2

08.12.2016
15:45 - 17:15 wöchentlich
20.30 SR -1.017 (UG) 20.30 Kollegiengebäude Mathematik, Englerstr. 2

15.12.2016
15:45 - 17:15 wöchentlich
20.30 SR -1.017 (UG) 20.30 Kollegiengebäude Mathematik, Englerstr. 2

22.12.2016
15:45 - 17:15 wöchentlich
20.30 SR -1.017 (UG) 20.30 Kollegiengebäude Mathematik, Englerstr. 2

29.12.2016
15:45 - 17:15 wöchentlich
20.30 SR -1.017 (UG) 20.30 Kollegiengebäude Mathematik, Englerstr. 2

05.01.2017
15:45 - 17:15 wöchentlich
20.30 SR -1.017 (UG) 20.30 Kollegiengebäude Mathematik, Englerstr. 2

12.01.2017
15:45 - 17:15 wöchentlich
20.30 SR -1.017 (UG) 20.30 Kollegiengebäude Mathematik, Englerstr. 2

19.01.2017
15:45 - 17:15 wöchentlich
20.30 SR -1.017 (UG) 20.30 Kollegiengebäude Mathematik, Englerstr. 2

26.01.2017
15:45 - 17:15 wöchentlich
20.30 SR -1.017 (UG) 20.30 Kollegiengebäude Mathematik, Englerstr. 2

02.02.2017
15:45 - 17:15 wöchentlich
20.30 SR -1.017 (UG) 20.30 Kollegiengebäude Mathematik, Englerstr. 2

09.02.2017
15:45 - 17:15 wöchentlich
20.30 SR -1.017 (UG) 20.30 Kollegiengebäude Mathematik, Englerstr. 2