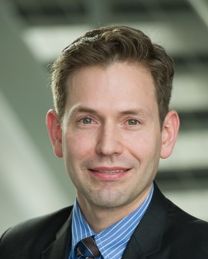 Prof. Dr. rer. nat. Martin Dienwiebel
Curriculum Vitae
Martin Dienwiebel studied Physics at the University Dortmund and the Rheinischen Friedrich-Wilhelms University Bonn. He conducted his diploma research at the Forschungszentrum Jülich using low-temperature scanning tunneling microscopy. He performed his doctoral research with Joost Frenken at the Institute for Atomic and molecular Physics in Amsterdam, the Kamerlingh Onnes Laboratory in Leiden and the Tokyo Institute of Technology. Martin Dienwiebel obtained his PhD 2003 at Leiden University on the topic "Superlubricity of Graphite".
Afterwards he worked in the Tribology department of IAVF Antriebstechnik AG. 2008 he received an Emmy-Noether grant of the Deutsche Forschungsgemeinschaft and set up a junior research group at the Karlsruhe Institute for Technology and the Fraunhofer Institute for Mechanics of Materials IWM. 2011 obtained his habilitation from KIT and 2016 he took a Heisenberg-Professur for Applied Nanotribology.
Since 2017 Martin Dienwiebel is a visiting professor at Kumamoto University in Japan und there, a member of the Advanced Structural Materials Group of IROAST.
Lectures in the winter semester
title
type
place
time
Tribologie
Vorlesung / Übung (VÜ)
19.10.2016
08:00 - 09:30 wöchentlich
30.22 Kl. HS B 30.22 Physik-Flachbau


21.10.2016
09:45 - 11:15 wöchentlich
10.91 Mittl. HS Raum 150 10.91 Maschinenbau, Altes Maschinenbaugebäude

21.10.2016
11:30 - 13:00 wöchentlich
10.81 Raum 219.1 10.81 Bauingenieure, Altes Bauingenieurgebäude

26.10.2016
08:00 - 09:30 wöchentlich
30.22 Kl. HS B 30.22 Physik-Flachbau

28.10.2016
09:45 - 11:15 wöchentlich
10.91 Mittl. HS Raum 150 10.91 Maschinenbau, Altes Maschinenbaugebäude

28.10.2016
11:30 - 13:00 wöchentlich
10.81 Raum 219.1 10.81 Bauingenieure, Altes Bauingenieurgebäude

02.11.2016
08:00 - 09:30 wöchentlich
30.22 Kl. HS B 30.22 Physik-Flachbau

04.11.2016
09:45 - 11:15 wöchentlich
10.91 Mittl. HS Raum 150 10.91 Maschinenbau, Altes Maschinenbaugebäude

04.11.2016
11:30 - 13:00 wöchentlich
10.81 Raum 219.1 10.81 Bauingenieure, Altes Bauingenieurgebäude

09.11.2016
08:00 - 09:30 wöchentlich
30.22 Kl. HS B 30.22 Physik-Flachbau

11.11.2016
09:45 - 11:15 wöchentlich
10.91 Mittl. HS Raum 150 10.91 Maschinenbau, Altes Maschinenbaugebäude

11.11.2016
11:30 - 13:00 wöchentlich
10.81 Raum 219.1 10.81 Bauingenieure, Altes Bauingenieurgebäude

16.11.2016
08:00 - 09:30 wöchentlich
30.22 Kl. HS B 30.22 Physik-Flachbau

18.11.2016
09:45 - 11:15 wöchentlich
10.91 Mittl. HS Raum 150 10.91 Maschinenbau, Altes Maschinenbaugebäude

18.11.2016
11:30 - 13:00 wöchentlich
10.81 Raum 219.1 10.81 Bauingenieure, Altes Bauingenieurgebäude

23.11.2016
08:00 - 09:30 wöchentlich
30.22 Kl. HS B 30.22 Physik-Flachbau

25.11.2016
09:45 - 11:15 wöchentlich
10.91 Mittl. HS Raum 150 10.91 Maschinenbau, Altes Maschinenbaugebäude

25.11.2016
11:30 - 13:00 wöchentlich
10.81 Raum 219.1 10.81 Bauingenieure, Altes Bauingenieurgebäude

30.11.2016
08:00 - 09:30 wöchentlich
30.22 Kl. HS B 30.22 Physik-Flachbau

02.12.2016
09:45 - 11:15 wöchentlich
10.91 Mittl. HS Raum 150 10.91 Maschinenbau, Altes Maschinenbaugebäude

02.12.2016
11:30 - 13:00 wöchentlich
10.81 Raum 219.1 10.81 Bauingenieure, Altes Bauingenieurgebäude

07.12.2016
08:00 - 09:30 wöchentlich
30.22 Kl. HS B 30.22 Physik-Flachbau

09.12.2016
09:45 - 11:15 wöchentlich
10.91 Mittl. HS Raum 150 10.91 Maschinenbau, Altes Maschinenbaugebäude

09.12.2016
11:30 - 13:00 wöchentlich
10.81 Raum 219.1 10.81 Bauingenieure, Altes Bauingenieurgebäude

14.12.2016
08:00 - 09:30 wöchentlich
30.22 Kl. HS B 30.22 Physik-Flachbau

16.12.2016
09:45 - 11:15 wöchentlich
10.91 Mittl. HS Raum 150 10.91 Maschinenbau, Altes Maschinenbaugebäude

16.12.2016
11:30 - 13:00 wöchentlich
10.81 Raum 219.1 10.81 Bauingenieure, Altes Bauingenieurgebäude

21.12.2016
08:00 - 09:30 wöchentlich
30.22 Kl. HS B 30.22 Physik-Flachbau

23.12.2016
09:45 - 11:15 wöchentlich
10.91 Mittl. HS Raum 150 10.91 Maschinenbau, Altes Maschinenbaugebäude

23.12.2016
11:30 - 13:00 wöchentlich
10.81 Raum 219.1 10.81 Bauingenieure, Altes Bauingenieurgebäude

30.12.2016
11:30 - 13:00 wöchentlich
10.81 Raum 219.1 10.81 Bauingenieure, Altes Bauingenieurgebäude

11.01.2017
08:00 - 09:30 wöchentlich
30.22 Kl. HS B 30.22 Physik-Flachbau

13.01.2017
09:45 - 11:15 wöchentlich
10.91 Mittl. HS Raum 150 10.91 Maschinenbau, Altes Maschinenbaugebäude

13.01.2017
11:30 - 13:00 wöchentlich
10.81 Raum 219.1 10.81 Bauingenieure, Altes Bauingenieurgebäude

18.01.2017
08:00 - 09:30 wöchentlich
30.22 Kl. HS B 30.22 Physik-Flachbau

20.01.2017
09:45 - 11:15 wöchentlich
10.91 Mittl. HS Raum 150 10.91 Maschinenbau, Altes Maschinenbaugebäude

20.01.2017
11:30 - 13:00 wöchentlich
10.81 Raum 219.1 10.81 Bauingenieure, Altes Bauingenieurgebäude

25.01.2017
08:00 - 09:30 wöchentlich
30.22 Kl. HS B 30.22 Physik-Flachbau

27.01.2017
09:45 - 11:15 wöchentlich
10.91 Mittl. HS Raum 150 10.91 Maschinenbau, Altes Maschinenbaugebäude

27.01.2017
11:30 - 13:00 wöchentlich
10.81 Raum 219.1 10.81 Bauingenieure, Altes Bauingenieurgebäude

01.02.2017
08:00 - 09:30 wöchentlich
30.22 Kl. HS B 30.22 Physik-Flachbau

03.02.2017
09:45 - 11:15 wöchentlich
10.91 Mittl. HS Raum 150 10.91 Maschinenbau, Altes Maschinenbaugebäude

03.02.2017
11:30 - 13:00 wöchentlich
10.81 Raum 219.1 10.81 Bauingenieure, Altes Bauingenieurgebäude

08.02.2017
08:00 - 09:30 wöchentlich
30.22 Kl. HS B 30.22 Physik-Flachbau

10.02.2017
09:45 - 11:15 wöchentlich
10.91 Mittl. HS Raum 150 10.91 Maschinenbau, Altes Maschinenbaugebäude

10.02.2017
11:30 - 13:00 wöchentlich
10.81 Raum 219.1 10.81 Bauingenieure, Altes Bauingenieurgebäude



Nanotechnologie für Ingenieure und Naturwissenschaftler
Vorlesung (V)
20.10.2016
15:45 - 17:15 wöchentlich
20.30 SR -1.017 (UG) 20.30 Kollegiengebäude Mathematik, Englerstr. 2


27.10.2016
15:45 - 17:15 wöchentlich
20.30 SR -1.017 (UG) 20.30 Kollegiengebäude Mathematik, Englerstr. 2

03.11.2016
15:45 - 17:15 wöchentlich
20.30 SR -1.017 (UG) 20.30 Kollegiengebäude Mathematik, Englerstr. 2

10.11.2016
15:45 - 17:15 wöchentlich
20.30 SR -1.017 (UG) 20.30 Kollegiengebäude Mathematik, Englerstr. 2

17.11.2016
15:45 - 17:15 wöchentlich
20.30 SR -1.017 (UG) 20.30 Kollegiengebäude Mathematik, Englerstr. 2

24.11.2016
15:45 - 17:15 wöchentlich
20.30 SR -1.017 (UG) 20.30 Kollegiengebäude Mathematik, Englerstr. 2

01.12.2016
15:45 - 17:15 wöchentlich
20.30 SR -1.017 (UG) 20.30 Kollegiengebäude Mathematik, Englerstr. 2

08.12.2016
15:45 - 17:15 wöchentlich
20.30 SR -1.017 (UG) 20.30 Kollegiengebäude Mathematik, Englerstr. 2

15.12.2016
15:45 - 17:15 wöchentlich
20.30 SR -1.017 (UG) 20.30 Kollegiengebäude Mathematik, Englerstr. 2

22.12.2016
15:45 - 17:15 wöchentlich
20.30 SR -1.017 (UG) 20.30 Kollegiengebäude Mathematik, Englerstr. 2

29.12.2016
15:45 - 17:15 wöchentlich
20.30 SR -1.017 (UG) 20.30 Kollegiengebäude Mathematik, Englerstr. 2

05.01.2017
15:45 - 17:15 wöchentlich
20.30 SR -1.017 (UG) 20.30 Kollegiengebäude Mathematik, Englerstr. 2

12.01.2017
15:45 - 17:15 wöchentlich
20.30 SR -1.017 (UG) 20.30 Kollegiengebäude Mathematik, Englerstr. 2

19.01.2017
15:45 - 17:15 wöchentlich
20.30 SR -1.017 (UG) 20.30 Kollegiengebäude Mathematik, Englerstr. 2

26.01.2017
15:45 - 17:15 wöchentlich
20.30 SR -1.017 (UG) 20.30 Kollegiengebäude Mathematik, Englerstr. 2

02.02.2017
15:45 - 17:15 wöchentlich
20.30 SR -1.017 (UG) 20.30 Kollegiengebäude Mathematik, Englerstr. 2

09.02.2017
15:45 - 17:15 wöchentlich
20.30 SR -1.017 (UG) 20.30 Kollegiengebäude Mathematik, Englerstr. 2