WELCOME TO IAM-ZM
The Institute for Applied Materials - Reliability and Microstructure (IAM-ZM) engages in research and training in the fields of mechanical, tribological and structural properties of materials and reliability assessment of component parts in research.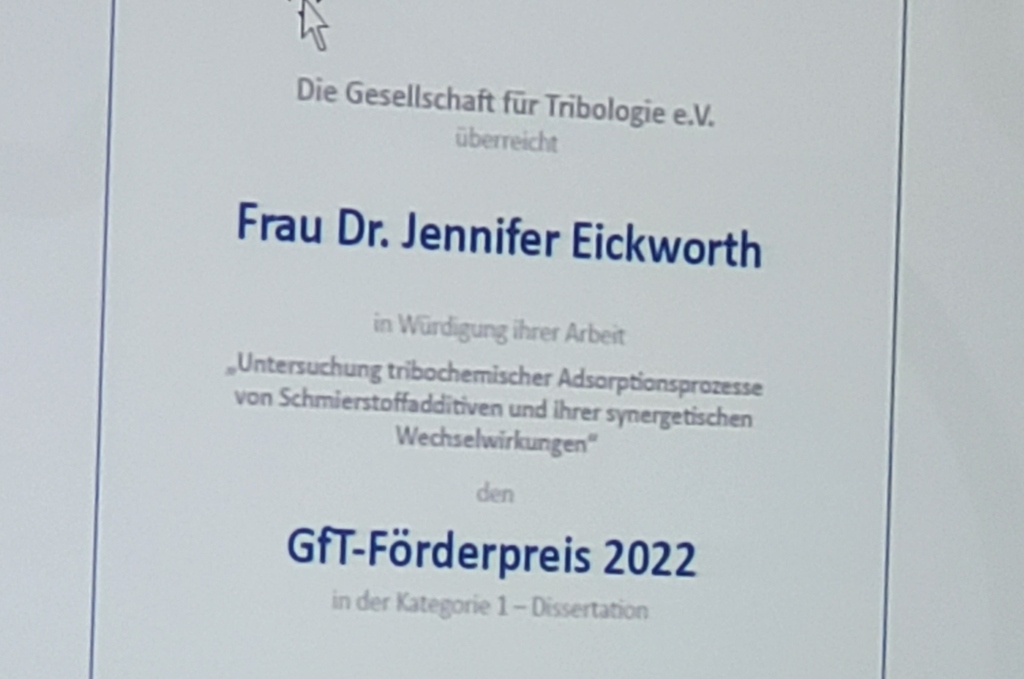 Jennifer Eickworth gewinnt GfT Förderpreis 2022
Bei der Jahrestagung der Gesellschaft für Tribologie in Göttingen wurde Jennifer Eickworth für ihre Doktorarbeit mit dem Titel "Untersuchung tribchemischer Adsorptionsprozesse von Schmierstoffadditiven und ihre synergetischen Wechselwirkungen" mit dem Förderpreis für die beste Promotion 2022 ausgezeichnet. Wir gratulieren dazu herzlich!
Gerda Vaitkunaite awarded Tribology Bronze Medal
Gerda Vaitkunaite, postdoc at the Institute for Applied materials (IAM-ZM) was awarded by the Institute of Mechanical Engineers (IMechE, UK) for her achievements in the field of tribology within the frame of her doctoral thesis at the University of Leeds with the Tribology Bronze Medal.
KIT-Promotionspreis for Julia Rau
Julia Rau was recognized with the KIT-Promotionspreis 2021 for her thesis 'Mechanism of tribologically-induced oxidation in high purity copper'. Congratulations!
Nick Garabedian wins the 2022 STLE Early Career Award
At the 2022 STLE Annual Meeting in Orlando, FL, Nick Garabedian was recognized for his work that links tribology, digitalization, and FAIR data. Congratulations!
Christian Greiner auf Professur berufen
Christian Greiner wurde zum 01. August auf die Professur für "Additiv hergestellte Bauteile und Mikrostrukturdesign" berufen. Gleichzeitig übernimmt er die Leitung der ehemaligen Biomechanikgruppe des IAM-WBM.
3. Platz beim "Ken Ludema Best Paper Award" für Carina Morstein
Auf der 23. "International Wear of Materials Conference WOM" hat Carina Morstein den 3. Platz beim "Ken Ludema Best Paper Award" für ihr Paper " Graphite Lubrication Mechanisms Under High Mechanical Load" gewonnen. Der Preis zu Ehren des Gründers der Konferenz zeichnet die besten Veröffentlichungen aus, die in einem Konferenz-Sonderband in der Zeitschrift WEAR erscheinen. Wir gratulieren!