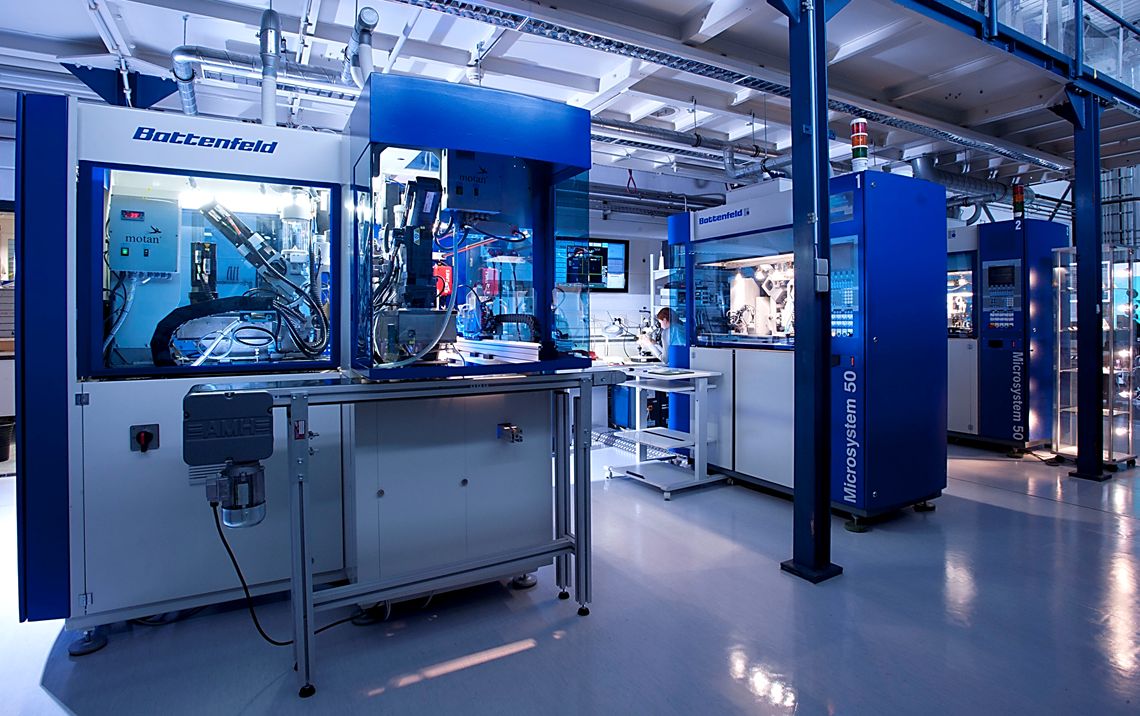 The special attractiveness of the technology is based on the following points:
- Short cycle times
- High degree of process automation
- System technology based on commercial equipment


}



high cost-effectiveness
Large range of materials (plastics, ceramics, metal)
Components can also be produced integratively from multiple materials by insert injection molding, multi-component injection molding and inmold labeling.
Typical applications are e.g:
- Mikrooptics
- Mikrofluidics (analyticy, lab-on-chip)
- Bio- and medical technology
- Micromechanics

Bio-container for cell cultivation,
PMMA 30x30 µm²
In micro injection molding, the compound is injected into a specially temperature-controlled tool in which microstructured mold inserts are integrated. Such mold inserts can be produced, for example, by processes of mechanical microtechnology (micromachining), by laser micromachining, X-ray or UV lithography according to the LIGA process or combinations of these and other processes. Since these manufacturing processes frequently result in blind hole-like cavities which can no longer be vented through backward holes, micro injection molding tools are often equipped with evacuating devices. Depending on the component to be molded the injection process can be carried out isothermally or variothermally, i.e. with heating before injection and cooling before demolding,. The last process variant is particularly recommended when molding high aspect ratios (> 5).

After cooling and after the tool has been opened, the injection-molded parts are usually removed by a handling equipment/robot. Almost all thermoplastics as well as thermoplastic elastomers can be used as plastic materials.

Materials
Polymeric materials: almost all injection-moldable types; experience is available with PMMA, PC, POM, PA, PE, PEEK, PEI, PSU, PPS, LCP, TPE
many materials also with filling materials, such as conductive carbon black or C-fibres
Technical data (status in 2019)
Preferred area of application:
Medium to large scale series production
Typical cycle time:
< 3 s – 7 min
Temperature control:
Iso- or variotherm
Tested mold insert materials
metal, hard metal, high perfromance plastics, ceramic
Smallest molded structural detail
< 100 nm
Surface roughness
Ra up to less than 50nm, depending on mold insert
Largest aspect ratio realized so far:
Free-standing structure (Pin, wall) 25 (h = 250 µm, b = 10 µm)
Hidden structure (hole, channel) 17 (h = 2000 µm, b = 115 µm)