Materials and Processes
Head of the department
Prof. (apl.) Dr.-Ing. Thomas Hanemann
Scientific Staff
Dr.-Ing. Steffen Antusch
M.Sc. Ralf Eickhoff
Dr. phil. nat. Mahir Hashimov
Dr. rer. nat. Andreas Hofmann
Dr.-Ing. Dorit Nötzel
Dr.-Ing Volker Piotter
Dipl.-Ing (FH) Klaus Plewa
M.Sc. Martin Zürn
Research mission
The department "Materials and Processes" focuses on the development of new materials for applications in microsystems technology and nanotechnology, fusion research and battery technology within the context of programme-oriented funding . In all cases, a holistic approach is pursued, i.e. the entire process chains are considered, starting with the production of materials, via suitable shaping or structuring processes, to the manufacture of components. This is valid for the research work in the field of powder injection moulding of ceramic or metallic components, the material development for different processes of 3D printing (microstereolithography, fused filament fabrication, 3D-InkJet-Printing) but also the development of safe electrolytes for lithium- and sodium-ion batteries. Within the field of 3D printing, there is a close cooperation with the Laboratory of Materials Process Technology at the Institute of Microsystems Technology at the University of Freiburg (www.imtek.de/wpt).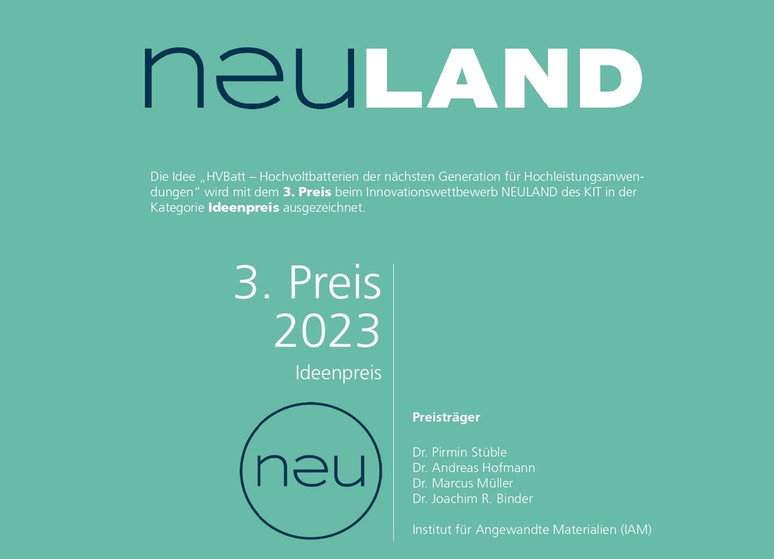 KIT Innovation Award for Researchers of IAM-ESS and IAM-WK
3rd place at the Neuland Innovation Award
The "Neuland" innovation competition annually awards innovative technologies and processes developed at KIT and aims at promoting their market introduction in cooperation with industrial partners.
The 3rd place among 21 submitted ideas was won this year by IAM researchers for the improvement of doped LiNi0.5Mn1.5O4 (LNMO) high-voltage spinels as cathode material for the next generation of Li-ion batteries.
Mehr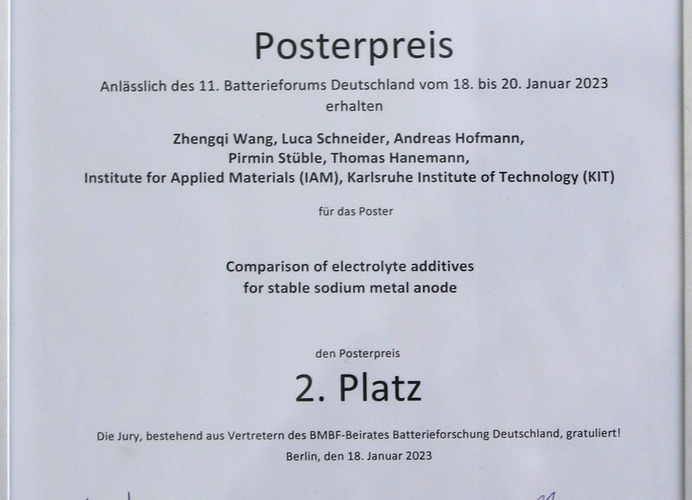 Battery Forum Germany
2nd place at the 11th Battery Forum in Berlin
Congratulations to the 2nd place poster award on the occasion of the 11th Battery Forum in Berlin, sponsored by the BMBF.
Mehr
Latest publications
2023
Effect of Flame Retardants and Electrolyte Variations on Li-Ion Batteries

Natalia Fulik, Andreas Hofmann, Dorit Nötzel, Marcus Müller, Ingo Reuter, Freya Müller, Anna Smith and Thomas Hanemann

Batteries 2023, 9(2), 82
doi.org/10.3390/batteries9020082

Potential and Limitations of Research Battery Cell Types for Electrochemical Data Acquisition

Anna Smith, Pirmin Stueble, Lea Leuthner, Andreas Hofmann, Fabian Jeschull and Liuda Mereacre

Batteries & Supercaps
doi.org/10.1002/batt.202300080

New Partially Water-Soluble Feedstocks for Additive
Manufacturing of Ti6Al4V Parts by Material Extrusion

Ralf Eickhoff, Steffen Antusch, Dorit Nötzel and Thomas Hanemann

materials (2023), 16, 3162
doi.org/10.3390/ma16083162

Creep–Fatigue Interaction of Inconel 718 Manufactured by Electron Beam Melting

Stefan Guth, Tomáš Babinský, Steffen Antusch, Alexander Klein, Daniel Kuntz and Ivo Šulák

Adv. Eng. Mater. 2023, 2300294
doi.org/10.1002/adem.202300294

Cycling Stability of Lithium-Ion Batteries Based on Fe–Ti-Doped LiNi0.5Mn1.5O4 Cathodes, Graphite Anodes, and the Cathode-Additive Li3PO4

Pirmin Stüble, Marcus Müller, Thomas Bergfeldt, Joachim R. Binder and Andreas Hofmann

Adv. Sci. 2023, 2301874
doi.org/10.1002/advs.202301874

Effect of neutron irradiation on tensile properties of advanced Cu-based
alloys and composites developed for fusion applications

Dmitry Terentyev, Michael Rieth, Gerald Pintsuk, Alexander Von Müller, Steffen Antusch, Aleksandr Zinovev, Alexander Bakaev, Kateryna Poleshchuk, Giacomo Aiello

Journal of Nuclear Materials, 584, 154587
doi.org/10.1016/j.jnucmat.2023.154587

Material Extrusion 3D Printing of PEEK-Based Composites

Thomas Hanemann, Aexander Klein, Siegfried Baumgärtner, Judith Jung, David Wilhelm and Steffen Antusch

polymers 2023, 15, 3412
doi.org/10.3390/polym15163412