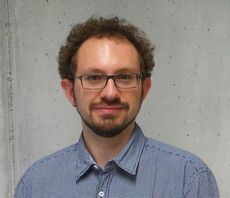 M.Sc. Anselm Heuer
Research Associate

Hybrid and Lightweight Materials

group:

HWL

office hours:

on appointment

room:

120, Bldg. 10.96

phone:

+49 721 608 44163

fax:

+49 721 608 48044

anselm heuer∂ kit edu
Karlsruher Institut für Technologie (KIT)
Institut für Angewandte Materialien - Werkstoffkunde (IAM-WK)
Campus Süd
Engelbert-Arnold-Straße 4
76131 Karlsruhe
Selection of two material combinations (plastic and chemical blowing agent) and determination of suitable process parameters. Then production of in-situ foamed 3d-printed specimens with the machine Freeformer.
Characterization of foam structures by measuring mechanical properties (tension, compression, three-point bending) and by evaluation of µCT investigations.
Determination, which process parameters have an influence on the foam structure (porosity, distribution of porosity) and what the mechanism of action is.
Production of complex parts with graded foam structure Comparison with foam structures which are produced with other 3d-printing processes.